Brian's Red Neck Pig Roast and more...
New to the services offered by The Supper Solution is the addition of my wood fire roaster. This has opened a new world for me and given me the ability to offer Pig Roast, Natural fire roasted Steamship rounds, Prime Rib, wood- fired whole Turkey and of course traditional BBQ favorites like Chicken, Ribs, Pulled pork butts, Hams, Beef briskets and Lamb legs.
What comes with the Pig...
The prize of the party is seasoned with herbs and spices as well as apples and pears, slow roasted over a hardwood lump charcoal fire. Displayed quickly (of course with an apple in the mouth) and then off to the carving table. Served with Corn Bread, plus three sauces for your guest to pick from. (Traditional style BBQ, Mango Chutney blend, Smoked maple Balsamic drizzle) Also included are country style arrangement of plates and plastic flatware. China is an additional expense. Food is then arranged buffet style and the feast starts.
Pig includes two sides and two salads, each additional choice is an additional cost.
** Other meat choices come with their own specialized accompaniments. Please inquire to their description. We also offer some mixed grill alternatives.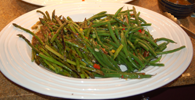 Salads...
Cole Slaw...

Shredded twin colors of cabbage with slivered carrots and raisins are tossed with a creamy homemade Poppy seed Cole slaw dressing.

Caesar Salad...

Crisp Romaine lettuce is tossed with fresh Parmesan cheese, homemade croutons, and a light Caesar dressing.

Farm Mesclin Mix....

Fresh tender garden greens and edible flowers are tossed together and served with a fresh herb and raspberry vinaigrette or Feta sweet herb balsamic vinaigrette.

Pasta Salad....

Perfectly cooked spiral pasta is tossed with garden vegetables and served with a creamy pesto dressing.

Potato Salad...

Tender red potatoes are dices and tossed with garden vegetables, crispy bacon, and grated Vermont cheddar cheese. Then mixed with a secret creamy dressing.

Lynn's Spinach Salad...

Fresh spinach leaves are tossed with bacon, mushroom, eggs, tomato and sprouts with a tomato and sweet onion vinaigrette.

Multi Bean Salad...

Medley of colored beans are combined with sweet peppers and onions tossed with a fresh herb and garlic dressing.
Starch Side Dishes....
Cowboy Style Baked Beans *this one is number 1 requested side*
Garlic Mashed Potatoes
Smashed Red Potatoes
Herb Roasted Medley of Baby Potatoes
Grilled Red Potatoes with herb butter
Mexican Rice
Herbed Rice Pilaf
Couscous of any type
Wild Rice Pilaf
Pastas tossed with olive oil and fresh herbs
Vegetable Side Dishes...
Grilled or Steamed Sweet Corn on the cob *this one is number 2 requested side*
Home made Apple Sauce
Glazed Carrots with caramelized onions
Medley of garden vegetables tossed with herb butter
Roasted vegetables with garlic oil
Grilled Marinated Vegetables
Green beans and wild mushrooms
Zesty Zucchini cubes
Serving the Connecticut River Valley
in Vermont and New Hampshire

PO Box 104, Post Mills VT 05058, 802-785-2433 or 785 CHEF