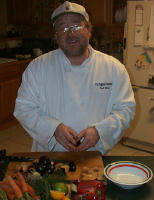 About The Chef and The Supper Solution
Thank you for showing interest in The Supper Solution. I have been in the food service business for twenty three years. I got my start as an apprentice in Philadelphia working in close contact with a pair of Master Chefs who guided my background in the love of food, professionalism and creativity. I have also been blessed to have had the good fortune to work in establishments that have allowed me to extend my creativity to all branches of cuisine.
Prior to starting The Supper Solution I spent eleven years at the Summit Lodge in Killington VT. There I was the Executive Chef with the responsibilities of a one hundred and twenty five seat restaurant that also did on-sight catering for up to three hundred people. While doing this I have been slowly working on my dream of setting up my own shop and have been doing parties on the side for the past five years. Most of my parties have been in the Woodstock, Rutland and Killington areas. With my wife Doreen, a Pediatric Nurse at DMHC commuting an hour to work, we decided it was time to move towards Hanover. Thus I find myself in the Upper Valley with a new exciting area to practice my magic.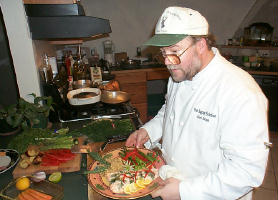 I feel it is very important to get to know my clients and vise versa. I feel my niche in the market is to stay small. This will allow me to give exceptional food quality and service. I started The Supper Solution Personnel Chef Service to accommodate the busy households of the area by providing gourmet and comfort dinner selections for those with little time for shopping, running the family, and finally cooking at the end of the busy day. In my private party forum, I specialize in gourmet BBQs, intimate dinners and brunches. Each menu is specially designed in collaboration between myself and the client to ensure the event fits into their personal taste and budget. All parties can be designed to be self or full service, it's your choice. Staying small allows me to be able to offer a wide range of culinary delights with only our imagination limiting the style of food. Following will be a sampling of ideas for your next party to let you imagine what it would be like to have your hands free to spend time with your family and guests.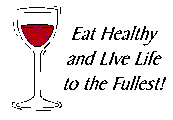 Sincerely,

Chef Brian Kasten

Serving the Connecticut River Valley
in Vermont and New Hampshire

PO Box 104, Post Mills VT 05058, 802-785-2433 or 785 CHEF